The design of this model, both classic and modern,
allows for a vast array of combinations. It can be customised, with or without a skirt at the base of the sofa and with arms of different shapes. Its back is in one piece, although it looks like it is made of two cushions.
Seat and back cushions fold under the base when the bed is open (patented Tessa 1000 mechanism, FCBA tested 3,500 opening/closing cycles).
Fully removable cover.
High strength steel structure, epoxy varnish metallic grey.
Polythene coated electro welded orthopaedic bed base.
High resiliency polyurethane foam mattress, 45 kg density.
Optional decorative cushions.
Tessa 1000 System
Patented and FCBA 3500 tested mechanism
Overall dimensions (in cm)
Sofa bed
Depth
95 cm closed
213 cm open
Width
100 cm
120 cm
140 cm
160 cm
Height
46 cm seat
70 cm arms
81 cm total
Twin bed sofa
Depth
95 cm closed
213 cm open
Width
2x70 cm
2x80 cm
2x90 cm =
Height
46 cm seat
70 cm arms
81 cm total
Chair bed
Depth
95 cm closed
213 cm open
Width
70 cm
80 cm
90 cm
Height
46 cm seat
70 cm arms
81 cm total
2 different shapes of arms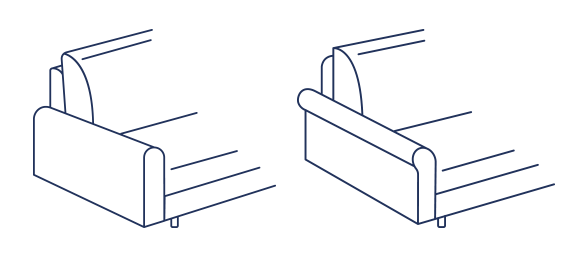 Arms A
+ 49 cm wide
(e.g., a 1 meter wide bed will be 149 cm wide overall)
Arms B
+ 62 cm wide
(e.g., a 1 meter wide bed will be 162 cm wide overall)